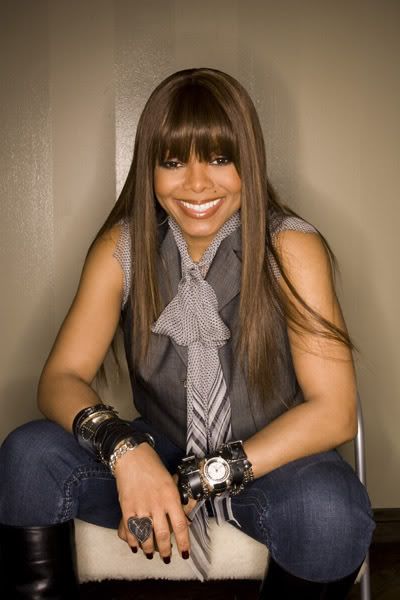 In the fad-hungry world of pop music, seven years is a lifetime.
Many who make it to the top of the charts one year will be nothing but a frothy memory seven years after their career climax.
But Janet Jackson -- who launched her first tour in seven years Wednesday night with a high-voltage performance at GM Place -- has a secure place in the pop world. The soft-spoken diva has a fan base and track record that allow her the rare privelege of hiding from the spotlight for years at a time before breaking out again.
But when she decides it's time for a tour, Ms. Jackson makes sure it's done right. And when she promises fans the show is going to be packed with hits, costumes and dancers, she doesn't disappoint. Within the first 10 minutes of the show, Jackson powered through four hits, covering material that spanned an impressive 22-year range. The opening set made it abundantly clear that Jackson has weathered many different musical trends and eras, but has always remained an individual.
Blasting off with The Pleasure Principle, off her 1986 breakthrough album, Control, Jackson quickly set the tone for a show that had a serious dance-club party vibe. The 42-year-old danced and sang her way through What Have You Done for Me Lately and onto Feedback, the lead single off her most recent album, Discipline.
With an ear-piercing blast of pyrotechnics, a fog of thick cloud and dancers that popped up out of the stage and runway, Jackson proved within the first minutes that she didn't choose the low-budget route for her Rock Witchu Tour.
The costume changes came fast and furious, ranging from futuristic space wear to a sailor-inspired number that included a curious corset to a long red sequined gown -- which she wore for her slowed-down set of four ballads (including Come Back to Me, Let's Wait Awhile and Again).
The crowd -- which didn't quite fill the stadium -- was on the quiet side to begin with, but exploded with high-pitched cheers for mega-hits like Nasty, Miss You Much and Together Again.
But it was after that last tune -- Janet's eighth No. 1 hit on the Billboard charts -- that the audience went wild.
Jackson stood alone, at the end of the runway, making expressions of gratitude and allowing a few tears to roll down her cheeks.